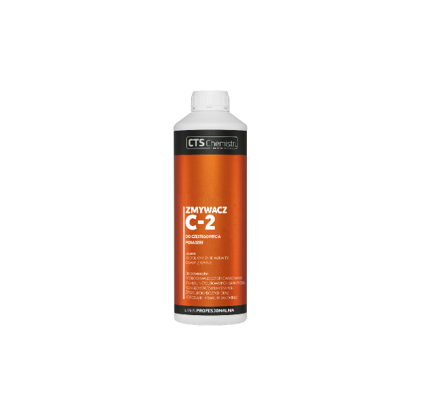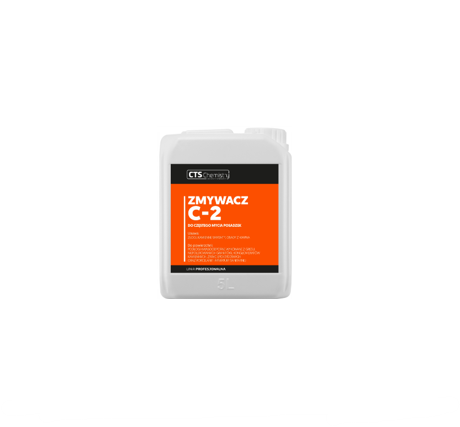 CTS Chemistry
<tc>C-2 Cleaner for frequent cleaning of surfaces</tc>
It is an acidic substance made of selected organic and inorganic additives, to remove sediment and stone efflorescence as well as descaling and cleaning washable and acid-resistant surfaces.
Application area
C-2 Cleaner is a cleaning agent intended for everyday, manual and mechanical cleaning of acid-
resistant floors made of stoneware, unpolished granite, stone conglomerates, epoxy resins as well as deliming and cleaning porcelain and sanitary fittings.
It is allowed to wash terrazzo, concrete and sandstone, however, not more often than once every two weeks.
Slightly foaming and delicately fragrant.
It can be used on all water-resistant surfaces.
It does not contain soap, waxes and polishes.
Intended in particular for the care of non-slip floors.
For indoor and outdoor use, on new and old surfaces.
Application instructions
Before starting works, tests should be carried out in a small area to check the effect of the
preparation on the substrate.
1. Machine washing (scrubbers) - 10-20 ml per 1 litre of water
2. Hand washing (mops, cloths, sponges)
a / daily - 5 ml per 1 litre of water
b / light soiling - 10 ml per 1 litre of water
c / medium dirt - 20-50 ml per 1 litre of water
Comments and recommendations
The substance in the form of a concentrate.
The general safety rules should be applied in accordance with the safety data sheet.
Before cleaning, you should be stocked up on safety equipment: goggles and protective gloves.
The contact of C-2 Cleaner with materials not resistant to acids is not allowed.
Irritating to skin and eyes. A prolonged contact with the substance may damage eyes / skin.
Keep away from children.
The product includes
Alcohols, C12-15, ethoxylated; orthophosphoric acid, citric acid, propan-2-ol, fragrances.
Technical data
- an aqueous, colourless solution
- density approx. 1 kg / dm3
- pH of the concentrate approx. 2.0
- pH of the working liquid approx. 3-4
- fruity fragrance
Packaging: 1 litre bottle and 5 litre bottle
Expiry date:
Use the substance within 36 months from the production date shown on the packaging. The mixture should be stored
and transported in tightly closed, original packaging, in dry conditions and at a temperature between + 5 ° C and + 30 ° C.
Protect against overheating. The water-based product freezes below 0 ° C.