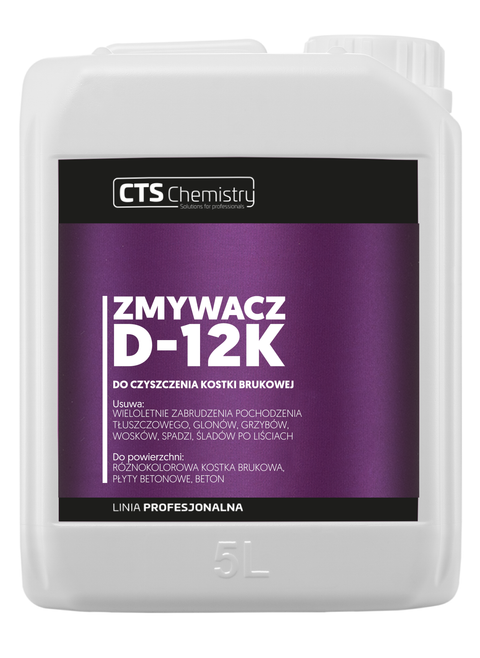 CTS Chemistry
<tc>D-12K Cleaner for cleaning paving stones</tc>
It is an aqueous, alkaline, colourless substance based on selected organic and inorganic additives, for cleaning paving stones from long-term mineral and organic dirt of fatty origin, algae, fungi, wax, honeydew, leaf traces.
Application area
Designed for cleaning multicoloured paving stones, concrete slabs and other concrete
surfaces. For use on new and old concrete surfaces.
Application instructions:
Due to the chemical diversity of surfaces to be cleaned, before cleaning, a test should be
made in a hardly visible place to check whether there is an unwanted reaction, e.g.
discoloration.
1. Apply the D-12K substance with a brush, soft brush or sprayer on the surface requiring
cleaning.
2. After applying the substance, the surfaces should be brushed intensively for about 5-10
seconds.
3. Leave the substance on the surface for approx. 5 minutes and brush the surface again
intensively for approx. 5-10 seconds.
4. After another 5 minutes, brush the surface again and then, remove the substance reacted
with dirt using a water vacuum cleaner or rinse it with plenty of water.
5. If necessary, repeat the above-mentioned activities.
6. Depending on the degree of soiling, use appropriate dilution with water.
Recommended proportions: from 1: 5 to 1: 1. The most common dilution is 1: 4.
Comments and recommendations:
The substance in the form of a concentrate.
The general safety rules should be applied in accordance with the safety data sheet.
Before cleaning, you should be stocked up on safety equipment: goggles and protective gloves.
Use typical tools such as: buckets, brushes. Keep away from children.
The contact of the D-12K Cleaner with materials not resistant to alkali action is not allowed.
Irritating to skin and eyes. A prolonged contact with the substance may damage eyes / skin.
The product includes:
Alcohols, C12-15, ethoxylated, sodium hydroxide, propan-2-ol.
Technical data
- an aqueous, colourless solution
- density approx. 1 kg / dm3
- pH of a concentrate approx. 12.5
- smell characteristic of detergents
Packaging: 1 litre bottle and 5 litre bottle
Expiry date:
Use the substance within 36 months from the production date shown on the packaging. The mixture should be stored
and transported in tightly closed, original packaging, in dry conditions and at a temperature between + 5 ° C and + 30 ° C.
Protect against overheating. The water-based product freezes below 0 ° C.