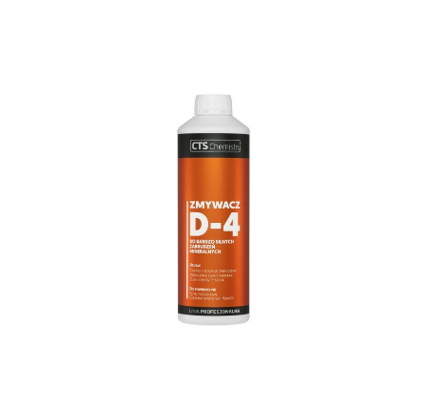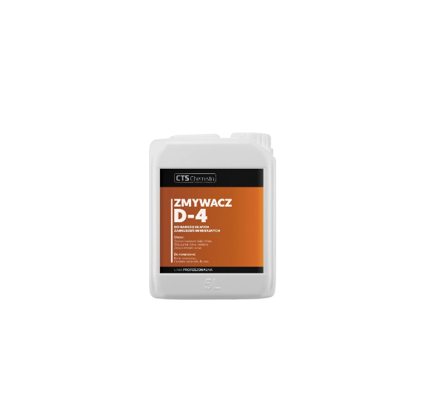 CTS Chemistry
<tc>D-4 Hevy duty cleaner</tc>
Cleaner D-4 is a powerful water-based acidic cleaner with selected organic and non-organic additives.
Dedicated to penetrate and loosen even the heaviest deposits, old stains, contamination and effloresce.

It can be used for removing contamination on all types of polished and non-polished ceramics, terrazzo, industrial concrete, paving etc.

Ideal for deep cleaning of floors and walls in bathrooms, wet rooms, kitchens, swimming pools, spas, parking lots, walkways, paths and driveways, for indoor and outdoor use on new and old surfaces.
Application
Heavy Duty Cleaner D-4 - is a concentrated product and it should be used diluted in water.
Determine dilution ratio depending on level and type of contamination. 1:5 up to 1:1 ratio is recommended to be used.
Depending on the degree of soiling, use appropriate dilution with water - recommended proportions from
1:5 to 1:2. Most common proportion – 1:4. For glazed and polished tiles- 1:4, 1:5.
It can be applied with a brush, mop, spray, sponge, scrubber dryer etc.
Rinse the area to be cleaned with water and wait 2-3 minutes.
Apply the product generously and evenly on the entire surface area. Ensure even distribution by brushing and agitating several times. The surface should be vigorously brushed with a brush or sponge for 5-10 seconds using circular movements.
Leave the preparation on the surface for about 2-3 minutes and brush the surface vigorously again. After another 2-3 minutes, remove the reacted product and dirt with a wet vacuum cleaner or absorbent material, rinse thoroughly with water and collect it again. Assess whether the surface is cleaned up properly. Repeat if necessary.
Deeply integrated stains can be removed by 2 or 3 applications of the product, or by extending the contact time.
After each application flush the area with plenty of water.
Before application, we recommend testing the product on a small, unexposed area.
Recommendations
D-4 Is a concentrated product and it should be used diluted in water.
Before cleaning be sure to use safety equipment such as safety glasses and gloves.
Carry out the application in good light.
Temperature / humidity when performing work: up to 30°C /85%,
Heavy Duty Cleaner D-4 - is not allowed to come into contact with metal surfaces, galvanic and painting coatings, plaster and other surfaces made of materials absorbing water and water solutions.
Warnings
KEEP OUT OF REACH OF CHILDREN & PETS. ATTENTION CAUSTIC PRODUCT
The product contains: alcohols, C12-15, ethoxylated; ammonium hydro fluoride.
Technical specifications:
aqueous, colourless solution
density approx. 1kg/dm3
pH approx. 4.5
odour characteristic for detergents
coverage: approx. 0.1-0.3 L / for 1 m2
Available packaging
1L/5L
Expiry date
Up to 36 months of storage at temperatures >+ 5°C to < 30°C, in original unopened manufacturer's packaging. Water-based product it freezes at temperatures < 0°C.