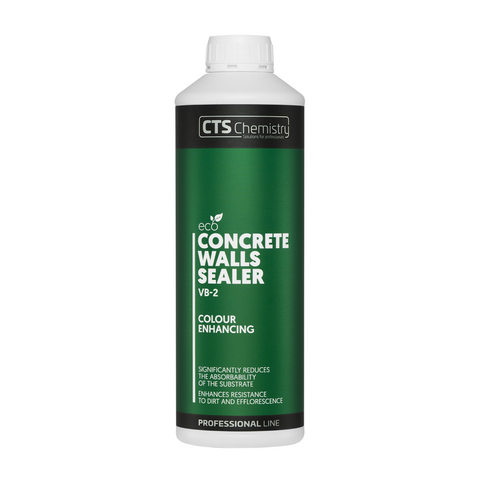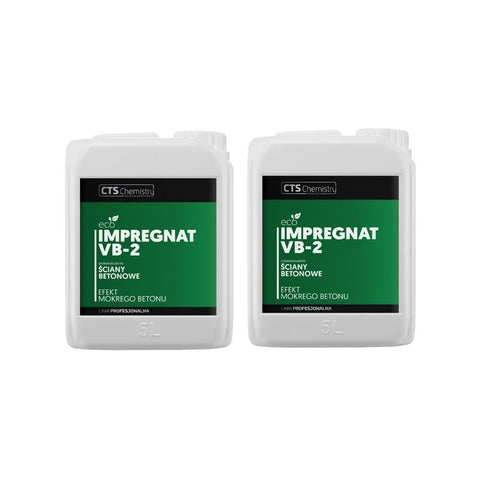 CTS Chemistry
<tc>VB-2 Water-based Sealer for Concrete walls (wet concrete effect)</tc>
Water-based hydrophobic preparation that giving "wet-look" effect of substrate.
Reduces the absorbability of the substrate
Enhances resistance to dirt and efflorescence
VB-2 is manufactured on the basis of siloxanes, in order to protect mineral, porous substrates of concrete against water,
It reduces the absorbability of the substrate – ensures protection against precipitation water and penetration of harmful chemical compounds dissolved in water into the material structure.
It increases the resistance of the impregnated substrate to dirt, efflorescence and the development of biological contamination.
Alkali-resistant, durable – UV-resistant, solvent-free.
It does not degrade the properties of the protected material in terms of gas and water vapor diffusion the pores remain open.
Application area
All substrates makes of concrete.
For use inside and outside buildings, on old and new substrates
Application:
PRIOR APLICATION:
Before application, the substrate should be cleaned of dirt, dust, patina, loose elements, salt efflorescence and residues of paint coats.
Any adjacent surfaces not being treated with the product must be protected.
Never apply to wet surfaces. The product can be used on slightly damp surfaces; nonetheless, please ensure that the surface to be treated is as dry as possible.
At the time of application, surface should not be displayed in direct sunlight and rainfalls.
Note. Impregnation should not be performed on surfaces with high salinity, as this may lead to intensification of the crystallization process of construction salts and destruction of the substrate material.
APPLICATION INSTRUCTION:
VB-2 is a ready to use product. DO NOT DILUTE.
May be applied using low pressure spray, brush or roller. Apply the product generously and evenly on the entire area until the surface is saturated.
Repeat the action several times depending on attributes and porosity of the surface by the "wet-on-wet" method.
Subsequent applications MUST be applied "wet-on-wet" within 10 minutes of previous application. Do not allow the substrate to dry between application.
Depending on the properties and porosity of the protected substrate, the above procedure should be repeated 2 or 3 times.
During works and immediately after their completion, the freshly impregnated surfaces should be protected against direct sunlight and precipitation for a minimum of 5 hours.
Before application, we recommend testing the product on a small, unexposed area.
Comments and recommendations:
This information constitutes the basic guidelines for the use of the product and does not release from the obligation to perform work in accordance with the principles of art of the construction, conservation guidelines and health and safety regulations.
Do not apply during rain or frost and when surface and air temperature is < 5°C and > 30°C.
Warnings
KEEP OUT OF REACH OF CHILDREN & PETS. ATTENTION CAUSTIC PRODUCT
The product contains: siloxanes and silicones, 3-[(2-aminoethyl)amino]propyl Me, di-Me; and the preservative 2-methyl-2H-isothiazol-3-on
Technical specifications
Product density: approx. 1.1 kg / dm³
pH value: approx. 7
Odour: characteristic
Colour: milky white, colourless after drying - giving the effect of a wet substrate, transparent
Rain resistance: 5-6 hours
Water absorption coefficient: Wd <0.1 kg / m2 x h1 / 2 or <7.5% acc. PN-EN 1504-2 / EN 13580 /
Water vapor diffusion resistance: Sd = 0.0 [m]
Alkali resistance - measured with water absorption according to PN-EN 1504-2 / EN 13580 <10%
Penetration depth:> 5 mm, measured according to EN 14630
Drying rate factor class 2 to 1 / depending on the degree of absorption / water absorption
substrate, measured according to EN 13579
1L covers approx. 5-11 m²
Available packaging
1L
5L
Expiry date: Up to 36 months of storage at temperatures >+ 5°C to < 30°C, in original unopened manufacturer's packaging. Water-based product = it freezes at temperatures < 0°C.