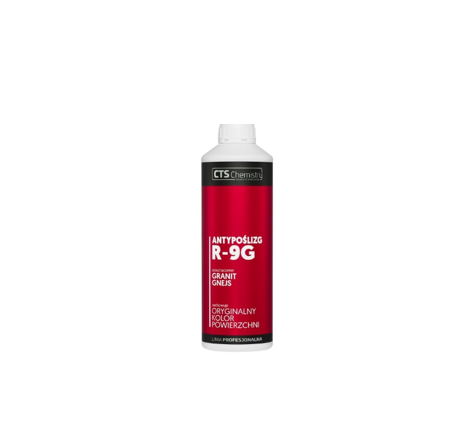 CTS Chemistry
<tc>R9-G Anti-slip treatment for stone</tc>
ANTI-SLIP R-9G Natural Stone is a water-based product designed to reduce slip potential on wet floor surfaces by increasing the friction coefficient of treated areas without affecting the natural look of the floor.




The inorganic surface activators and polymers contained in the product, due to the chemical conversion reaction, produce permanent microstructures causing an increase in the kinetic friction coefficient.




This product can be used on both indoor and outdoor surfaces on old or new floors.




Suitable for: surfaces made of granite and gneiss



Properties:
Long-lasting anti-slip effect
Retains the original surface colour
Safe for natural stone surfaces
Application:
ANTI-SLIP R-9G NATURAL STONE is a ready to use product.
The product can be applied with a hand sprayer, paint roller or brush.
Any adjacent surfaces not being treated with the product must be protected.
At the time of application, the surface should be dry.
Apply during the coolest times of day.
Do not treat if the flooring is exposed to direct sunlight.
Apply at temperature between +5 and +25°C. Floor heating must be turned off before application of the product.
Apply the product generously and evenly on the entire area until the surface is saturated (no dry spots). If applying on large area split it in two or more sections.
Gently agitate the surface with a deck brush or similar for approx. 30 sek until small bubbles appear.
Wait 2 minutes then brush the entire area once again to ensure the product is activated and evenly distributed on the entire surface at all times.
After 10 minutes remove the solution with a dry mop, cloth or wet vacuum cleaner.
Rinse the surface with clean water to stop the reaction.
Collect the water with a clean cloth, mop or wet vacuum cleaner and rinse the surface with water again.
In case the effect is unsatisfactory repeat the procedure.
After application of the product in accordance with the instructions, surface meets the safety requirements based on German standards DIN 51097, DIN 51130, DIN 51131
Recommendations:
As surfaces may differ it is recommended to first make a test on an inconspicuous area prior to actual application.
For black granites, a 2-3-fold test is necessary. Some types of granite may obtain a "satin" effect.
Wear protective goggles and nitrile gloves when using the product.
The product may irritate skin and eyes, it is necessary to ensure good ventilation of the room when applying product.
Eye contact: wash out with plenty of water for at least 15 min. Protect non-irritated eye, remove contact lenses. Avoid powerful water stream – risk of cornea damage. Replace the sterile dressing. Consult an ophthalmologist immediately.
Do not mix with other products.
Do not dispose of the container after use, as it may cause environmental pollution.
Do not pour the product into drains or sewers.
This information constitutes the basic guidelines for the use of the product and does not release from the obligation to perform work in accordance with the principles of art of the construction, conservation guidelines and health and safety regulations.
Do not apply during rain or frost and when surface and air temperature is < 5°C and > 30°C.
Warnings:
KEEP OUT OF REACH OF CHILDREN & PETS. ATTENTION CAUSTIC PRODUCT
The product contains: alcohols, C 12-15, ethoxylated, HF.
technical specifications:
Aqueous, colourless solution (slightly blue colour is permissible)
Density approx. 1
pH 3.5
Characteristic odour
Coverage: 5-8 m2
Durability of anti-slip effect: from 6 to 24 months
Available packaging: 1L/5L bottle
Expiry date: Up to 36 months of storage at temperatures >+ 5°C to < 30°C, in original unopened manufacturer's packaging. Water-based product = it freezes at temperatures < 0°C.